Harley Portable Folding Hammock & Stand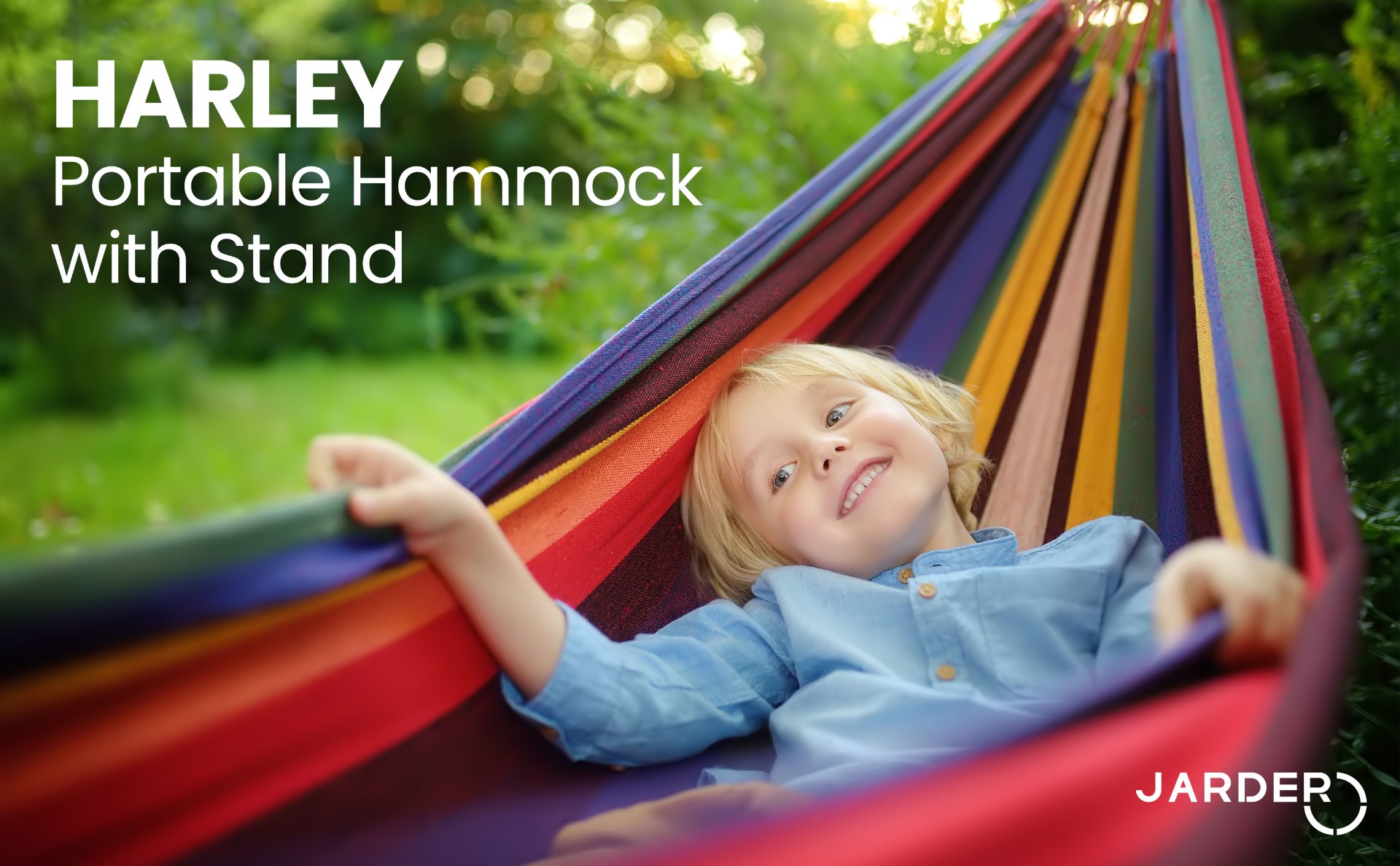 Perfect for gardens, beach, camping, festivals
The ultimate portable hammock and stand!
Holds up to 120kgs
Assembles and packs away in minutes
Comes with carry bag
Only 13kgs
IN STOCK - FREE 2 WORKING DAY DELIVERY
SKU
GF-STAND019-72004S(C)
Harley Portable Folding Hammock With Stand
Perfect for gardens, beach, camping, festivals
The ultimate portable hammock and stand!
Holds up to 120kgs
Assembles and packs away in minutes
Comes with carry bag
Only 13kgs
Relax anywhere with the Harley folding hammock. Harley is a portable hammock stand which can be unfolded and put together for fast use, without needing to hook it up to strong branches or permanent attachments to walls. The flexible nature of this hammock means this lightweight design can be moved to sunny spots with ease, or positioned in a more sheltered area. The folding hammock also comes with a storage carry bag, making it even easier to take this hammock on camping trips, to the beach or even just out into the garden on a sunny day!
This portable hammock is easy to put together and take apart, with only minor adjustments needing to be made to assemble and dissemble this piece of furniture.
The Harley portable hammock stand comes with a soft cotton hammock and is equipped to hold up to 120kg. The comfortable, breathable fabric of the hammock provides a sanctuary for warm and cool days alike, allowing you to snuggle up for the long haul. This adjustable hammock means it can be set to different heights depending on weight and preference. No tools are required to put this hammock together, just ensure all original parts are included and follow a few simple steps to put it together. The Harley hammock weighs 13kg, making it easy to transport, particularly when it is packed up in its carrier bag.
Stand specifications:
Size when assembled: (275-305)x100x(95-105)cm
Size in the bag: 122x20x20cm
Weight: 13kgs
Max load: 120kg
Hammock specifications:
Material: Cotton
Size: 200x150cm
Total length with ropes: 320cm
More Information

| | |
| --- | --- |
| Frame | Steel |
Delivery is FREE of charge provided the items are delivered to the UK Mainland.
We are unable to deliver furniture, parasols or bases to UK Isles, Scottish Highlands, Northern Ireland or Eire. Any orders for bulky items to these locations will be cancelled.

Delivery Timescale
Delivery will usually take 2-3 working days. Please note for larger furniture sets we will contact you before dispatching to arrange delivery.

Local Pickup
If you live locally you might want to pick your item up directly from us. If you wish to do this please call us in advance. You can find our contact details here.

If you have any questions please contact us: enquiries@jarder.co.uk
Delivery is FREE of charge provided the items are delivered to the UK Mainland.
We are unable to deliver furniture, parasols or bases to UK Isles, Scottish Highlands, Northern Ireland or Eire. Any orders for bulky items to these locations will be cancelled.

Delivery Timescale
Delivery will usually take 2-3 working days. Please note for larger furniture sets we will contact you before dispatching to arrange delivery.

Local Pickup
If you live locally you might want to pick your item up directly from us. If you wish to do this please call us in advance. You can find our contact details here.

If you have any questions please contact us: enquiries@jarder.co.uk